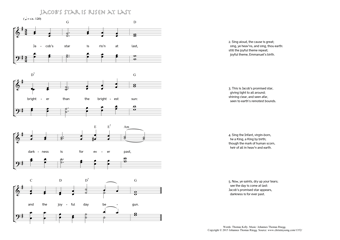 Christ My Song - 1352
Jacob's star is risen at last
(Thomas Kelly/Johannes Thomas Rüegg)
Jacob's star is risen at last.
"There shall come a star out of Jacob." (Numbers 24,17)
1. Jacob's star is ris'n at last,
brighter than the brightest sun:
darkness is for ever past,
and the joyful day begun. PDF - Midi
2. Sing aloud, the cause is great;
sing, ye heav'ns, and sing, thou earth:
still the joyful theme repeat;
joyful theme, Emmanuel's birth.
3. This is Jacob's promised star,
giving light to all around;
shining clear, and seen afar,
seen to earth's remotest bounds.
4. Sing the Infant, virgin-born,
he a King, a King by birth;
though the mark of human scorn,
heir of all in heav'n and earth.
5. Now, ye saints, dry up your tears;
see the day is come at last:
Jacob's promised star appears,
darkness is for ever past.
Thomas Kelly, Hymns on various passages of Scripture, ca. 1853, Hymn 2.