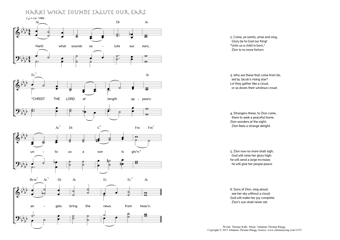 Christ My Song - 1355
Hark! what sounds salute our ears
(Thomas Kelly/Johannes Thomas Rüegg)
Hark! what sounds salute our ears.
"We have seen his star in the east, and are come to worship him." (Matthew 2,2)
1. Hark! what sounds salute our ears,
"Christ the Lord at length appears:
unto us a son is giv'n:"
angels bring the news from heav'n. PDF - Midi
2. Come, ye saints, arise and sing,
Glory be to God our King!
"Unto us a child is born,"
Zion is no more forlorn.
3. Who are these that come from far,
led by Jacob's rising star?
Lo! they gather like a cloud,
or as doves their windows crowd.
4. Strangers these, to Zion come,
there to seek a peaceful home.
Zion wonders at the sight;
Zion feels a strange delight.
5. Zion now no more shall sigh;
God will raise her glory high:
he will send a large increase;
he will give her people peace.
6. Sons of Zion, sing aloud;
see her sky without a cloud:
God will make her joy complete:
Zion's sun shall never set.
Thomas Kelly, Hymns on various passages of Scripture, ca. 1853, Hymn 6.