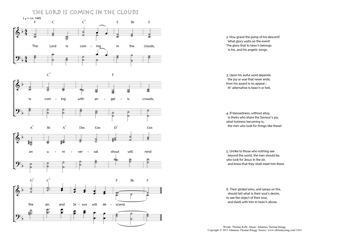 Christ My Song - 1361
The Lord is coming in the clouds
(Thomas Kelly/Johannes Thomas Rüegg)
The Lord is coming in the clouds.
"For the Lord himself shall descend from heaven
with a shout." (1 Thessalonians 4,16)
1. The Lord is coming in the clouds,
is coming with angelic crowds;
an universal shout will rend
the air, and Jesus will descend. PDF - Midi
2. How grand the pomp of his descent!
What glory waits on the event!
The glory that to heav'n belongs
is his, and his angelic songs.
3. Upon his awful word depends
the joy or woe that never ends;
from his award is no appeal –
th' alternative is heav'n or hell.
4. If blessedness, without alloy,
is theirs who share the Saviour's joy,
what holiness becoming is,
the men who look for things like these!
5. Unlike to those who nothing see
beyond the world, the men should be,
who look for Jesus in the air,
and know that they shall meet him there.
6. Their girded loins, and lamps on fire,
should tell what is their soul's desire,
to see the object of their love,
and dwell with him in heav'n above.
Thomas Kelly, Hymns on various passages of Scripture, ca. 1853, Hymn 78.