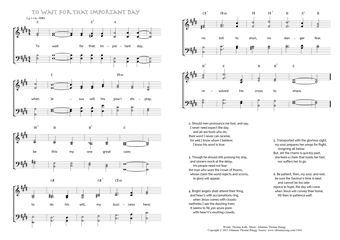 Christ My Song - 1364
To wait for that important day
(Thomas Kelly/Johannes Thomas Rüegg)
To wait for that important day.
"To wait for his Son from heaven." (1 Thessalonians 1,10)
1. To wait for that important day,
when Jesus will his pow'r display,
be this my one great care;
to do his will, my business here;
no toil to shun, no danger fear,
resolved his cross to share. PDF - Midi
2. Should men pronounce me fool, and say,
I never need expect the day,
and all are fools who do;
their word I never can receive,
for well I know whom I believe;
I know his word is true.
3. Though he should still prolong his stay,
and sinners mock at the delay,
his people need not fear:
the man who wore the crown of thorns,
whose claim the world rejects and scorns,
in glory will appear.
4. Bright angels shall attend their King,
and heav'n with acclamations ring,
when Jesus comes with clouds:
methinks I see the dazzling train;
it seems to fill yon azure plain
with heav'n's exulting crowds.
5. Transported with the glorious sight,
my soul prepares her wings for flight,
resigning all below.
But, ah! the charm is quickly past,
she feels a chain that holds her fast,
nor suffers her to go.
6. Be patient, then, my soul, and rest,
be sure the Saviour's time is best,
and cannot be too late:
rejoice in hope, the day will come
when Jesus will convey thee home;
till then in patience wait.
Thomas Kelly, Hymns on various passages of Scripture, ca. 1853, Hymn 60.