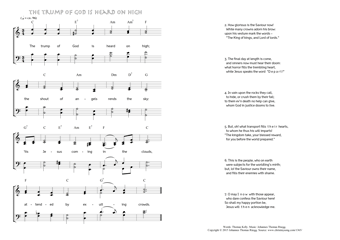 Christ My Song - 1365
The trump of God is heard on high
(Thomas Kelly/Johannes Thomas Rüegg)
The trump of God is heard on high.
"For the Lord himself shall descend from heaven with a shout, with the voice of the archangel, and with the trump of God."
(1 Thessalonians 4,16)
1. The trump of God is heard on high;
the shout of angels rends the sky:
'tis Jesus coming in the clouds,
attended by exulting crowds. PDF - Midi
2. How glorious is the Saviour now!
While many crowns adorn his brow:
upon his vesture mark the words –
"The King of kings, and Lord of lords."
3. The final day at length is come,
and sinners now must hear their doom:
what horror fills the trembling heart,
while Jesus speaks the word "Depart!"
4. In vain upon the rocks they call,
to hide, or crush them by their fall;
to them ev'n death no help can give,
whom God in justice dooms to live.
5. But, oh! what transport fills their hearts,
to whom he thus his will imparts!
"The kingdom take, your blessed reward,
for you before the world prepared."
6. This is the people, who on earth
were subjects for the worldling's mirth;
but, lo! the Saviour owns their name,
and fills their enemies with shame.
7. O may I now with those appear,
who dare confess the Saviour here!
So shall my happy portion be,
Jesus will then acknowledge me.
Thomas Kelly, Hymns on various passages of Scripture, ca. 1853, Hymn 70.