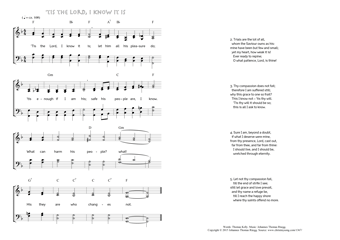 Christ My Song - 1367
'Tis the Lord, I know it is
(Thomas Kelly/Johannes Thomas Rüegg)
'Tis the Lord, I know it is.
"It is the Lord." (1 Samuel 3,18)
1. 'Tis the Lord, I know it is;
let him all his pleasure do;
'tis enough if I am his;
safe his people are, I know.
What can harm his people? what!
His they are who changes not. PDF - Midi
2. Trials are the lot of all,
whom the Saviour owns as his:
mine have been but few and small;
yet my heart, how weak it is!
Ever ready to repine;
O what patience, Lord, is thine!
3. Thy compassion does not fail;
therefore I am suffered still;
why this grace to one so frail?
This I know not – 'tis thy will.
'Tis thy will it should be so;
this is all I ask to know.
4. Sure I am, beyond a doubt,
if what I deserve were mine,
from thy presence, Lord, cast out,
far from thee, and far from thine:
I should live, and I should be,
wretched through eternity.
5. Let not thy compassion fail,
till the end of strife I see;
still let grace and love prevail,
and thy name a refuge be,
till I reach the happy shore
where thy saints offend no more.
Thomas Kelly, Hymns on various passages of Scripture, ca. 1853, Hymn 179.