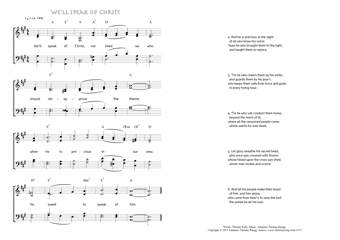 Christ My Song - 1371
We'll speak of Christ (Thomas Kelly/Johannes Thomas Rüegg)
We'll speak of Christ.
"Unto you therefore which believe, he is precious."
(1 Peter 2,7)
1. We'll speak of Christ, nor heed we who
should disapprove the theme;
when he is precious in our view,
'tis sweet to speak of him. PDF - Midi
2. And he is precious in the sight
of all who know his voice;
'twas he who brought them to the light,
and taught them to rejoice.
3. 'Tis he who cheers them by his smile,
and guards them by his pow'r,
who keeps them safe from force and guile,
in every trying hour.
4. 'Tis he who will conduct them home,
beyond the reach of ill,
where all the ransomed people come,
where saints for ever dwell.
5. Let glory wreathe his sacred head,
who once was crowned with thorns;
whose blood upon the cross was shed,
whom man reviles and scorns.
6. And let his people make their boast
of him, and him alone,
who came from heav'n to save the lost:
the praise be all his own.
Thomas Kelly, Hymns on various passages of Scripture, ca. 1853, Hymn 319.