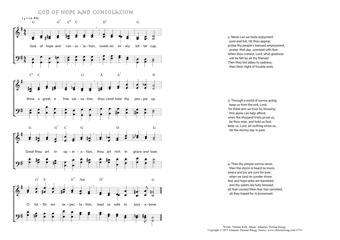 Christ My Song - 1374
God of hope and consolation
(Thomas Kelly/Johannes Thomas Rüegg)
God of hope and consolation.
"Now the God of hope fill you with all joy and peace."
(Romans 15,13)
1. God of hope and consolation,
sweeten every bitter cup;
thine a great, a free salvation,
thou canst hold thy people up.
Great thou art in operation,
thou art rich in grace and love;
O fulfill our expectation,
lead us safe to joys above. PDF - Midi
2. Never can we taste enjoyment
pure and full, till thou appear;
praise thy people's blessed employment,
praise, that day, unmixed with fear.
When thou comest, Lord, what gladness
will be felt by all thy friends!
Then they bid adieu to sadness,
then their night of trouble ends.
3. Through a world of sorrow going,
keep us from the evil, Lord;
'tis thine arm we trust to, knowing
this alone can help afford:
when the sharpest trials prove us,
be thou near, and hold us fast;
keep us, Lord, let nothing move us,
till the stormy day is past.
4. Then thy people sorrow never,
then the storm is heard no more;
peace and joy are ours for ever,
when we land on yonder shore:
fear and hope alike are banished,
and thy saints are fully blessed;
all that caused them fear has vanished,
all they hoped for is possessed.
Thomas Kelly, Hymns on various passages of Scripture, ca. 1853, Hymn 398.