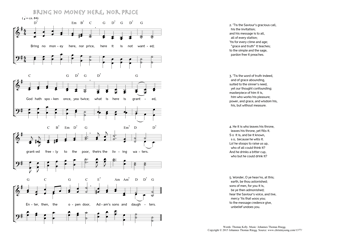 Christ My Song - 1377
Bring no money here, nor price
(Thomas Kelly/Johannes Thomas Rüegg)
Bring no money here, nor price.
"Come ye, buy wine and milk without money and without price." (Isaiah 55,1)
1. Bring no money here, nor price,
here it is not wanted;
God hath spoken once, yea twice;
what is here is granted,
granted freely to the poor,
theirs the living waters.
Enter, then, the open door,
Adam's sons and daughters. PDF - Midi
2. 'Tis the Saviour's gracious call,
his the invitation;
and his message is to all,
all of every station;
'tis for every clime and age;
"grace and truth" it teaches;
to the simple and the sage,
pardon free it preaches.
3. 'Tis the word of truth indeed,
and of grace abounding,
suited to the sinner's need,
yet our thought confounding;
masterpiece of him it is,
him who works his pleasure;
power, and grace, and wisdom his,
his, but without measure.
4. He it is who leaves his throne,
leaves his throne, yet fills it.
So it is, and be it known,
so, because he wills it.
Lo! he stoops to raise us up,
who of all could think it?
And he drinks a bitter cup,
who but he could drink it?
5. Wonder, O ye heav'ns, at this;
earth, be thou astonished;
sons of men, for you it is,
be ye then admonished;
hear the Saviour's voice, and live,
mercy 'tis that woos you;
to the message credence give,
unbelief undoes you.
Thomas Kelly, Hymns on various passages of Scripture, ca. 1853, Hymn 346.