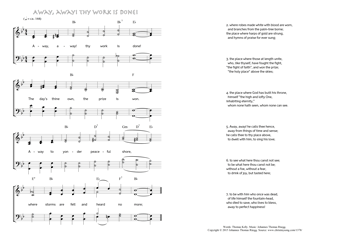 Christ My Song - 1378
Away, away! thy work is done!
(Thomas Kelly/Johannes Thomas Rüegg)
Away, away! thy work is done!
"Enter thou into the joy of thy Lord." (Matthew 25,23)
1. Away, away! thy work is done!
The day's thine own, the prize is won.
Away to yonder peaceful shore,
where storms are felt and heard no more; PDF - Midi
2. where robes made white with blood are worn,
and branches from the palm-tree borne;
the place where harps of gold are strung,
and hymns of praise for ever sung;
3. the place where those at length unite,
who, like thyself, have fought the fight,
"the fight of faith", and won the prize;
"the holy place" above the skies;
4. the place where God has built his throne,
himself "the high and lofty One,
inhabiting eternity,"
whom none hath seen, whom none can see.
5. Away, away! he calls thee hence,
away from things of time and sense;
he calls thee to thy place above,
to dwell with him, to sing his love;
6. to see what here thou canst not see;
to be what here thou canst not be;
without a foe, without a fear,
to drink of joy, but tasted here;
7. to be with him who once was dead,
of life himself the fountain-head,
who died to save, who lives to bless,
away to perfect happiness!
Thomas Kelly, Hymns on various passages of Scripture, ca. 1853, Hymn 370.