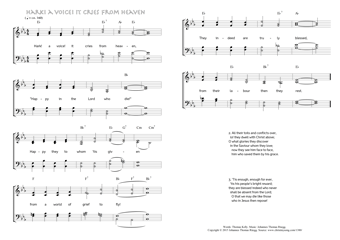 Christ My Song - 1380
Hark! a voice! it cries from heaven
(Thomas Kelly/Johannes Thomas Rüegg)
Hark! a voice! it cries from heaven.
"Blessed are the dead which die in the Lord."
(Revelation 14,13)
1. Hark! a voice! it cries from heaven,
"Happy in the Lord who die!"
Happy they to whom 'tis given
from a world of grief to fly!
They indeed are truly blessed,
from their labour then they rest. PDF - Midi
2. All their toils and conflicts over,
lo! they dwell with Christ above;
O what glories they discover
in the Saviour whom they love;
now they see him face to face,
him who saved them by his grace.
3. 'Tis enough, enough for ever,
'tis his people's bright reward;
they are blessed indeed who never
shall be absent from the Lord;
O that we may die like those
who in Jesus then repose!
Thomas Kelly, Hymns on various passages of Scripture, ca. 1853, Hymn 365.