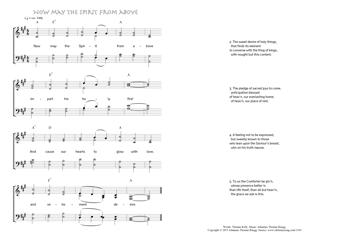 Christ My Song - 1381
Now may the Spirit from above
(Thomas Kelly/Johannes Thomas Rüegg)
Now may the Spirit from above.
"Did not our heart burn within us?" (Luke 24,32)
1. Now may the Spirit from above
impart his holy fire!
And cause our hearts to glow with love,
and vehement desire. PDF - Midi
2. The sweet desire of holy things,
that finds its element
in converse with the King of kings,
with nought but this content.
3. The pledge of sacred joys to come,
anticipation blessed
of heav'n, our everlasting home;
of heav'n, our place of rest.
4. A feeling not to be expressed,
but sweetly known to those
who lean upon the Saviour's breast,
who on his truth repose.
5. To us the Comforter be giv'n,
whose presence better is
than life itself, than all but heav'n;
the grace we ask is this.
Thomas Kelly, Hymns on various passages of Scripture, ca. 1853, Hymn 430.