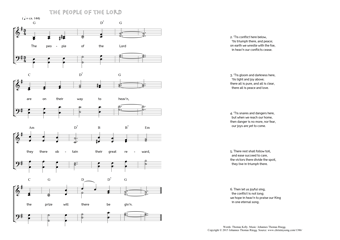 Christ My Song - 1386
The people of the Lord
(Thomas Kelly/Johannes Thomas Rüegg)
The people of the Lord.
"There remaineth, therefore, a rest to the people of God."
(Hebrews 4,9)
1. The people of the Lord
are on their way to heav'n,
they there obtain their great reward,
the prize will there be giv'n. PDF - Midi
2. 'Tis conflict here below,
'tis triumph there, and peace;
on earth we wrestle with the foe,
in heav'n our conflicts cease.
3. 'Tis gloom and darkness here,
'tis light and joy above;
there all is pure, and all is clear,
there all is peace and love.
4. 'Tis snares and dangers here,
but when we reach our home,
then danger is no more, nor fear,
our joys are yet to come.
5. There rest shall follow toil,
and ease succeed to care,
the victors there divide the spoil,
they live in triumph there.
6. Then let us joyful sing,
the conflict is not long;
we hope in heav'n to praise our King
in one eternal song.
Thomas Kelly, Hymns on various passages of Scripture, ca. 1853, Hymn 268.