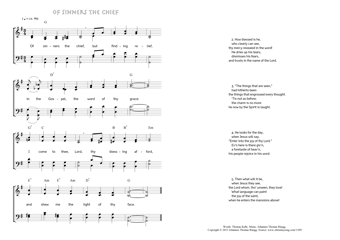 Christ My Song - 1389
Of sinners the chief
(Thomas Kelly/Johannes Thomas Rüegg)
Of sinners the chief.
"Of whom I am chief." (1 Timothy 1,15)
1. Of sinners the chief,
but finding relief,
in the Gospel, the word of thy grace:
I come to thee, Lord,
thy blessing afford,
and shew me the light of thy face. PDF - Midi
2. How blessed is he,
who clearly can see,
thy mercy revealed in the word!
He dries up his tears,
dismisses his fears,
and trusts in the name of the Lord.
3. "The things that are seen,"
had hitherto been
the things that engrossed every thought.
'Tis not as before;
the charm is no more:
he now by the Spirit is taught.
4. He looks for the day,
when Jesus will say,
"Enter into the joy of thy Lord."
Ev'n here is there giv'n,
a foretaste of heav'n,
his people rejoice in his word.
5. Then what will it be,
when Jesus they see,
the Lord whom, tho' unseen, they love!
What language can paint
the joy of the saint,
when he enters the mansions above!
Thomas Kelly, Hymns on various passages of Scripture, ca. 1853, Hymn 333.