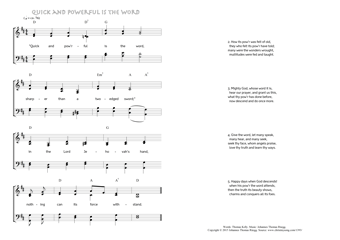 Christ My Song - 1393
Quick and powerful is the word
(Thomas Kelly/Johannes Thomas Rüegg)
Quick and powerful is the word.
"For the word of God is quick and powerful,
and sharper than any two-edged sword."
(Hebrews 4,12)
1. "Quick and pow'rful is the word,
sharper than a two-edged sword;"
in the Lord Jehovah's hand,
nothing can its force withstand. PDF - Midi
2. How its pow'r was felt of old,
they who felt its pow'r have told;
many were the wonders wrought,
multitudes were fed and taught.
3. Mighty God, whose word it is,
hear our prayer, and grant us this,
what thy pow'r has done before,
now descend and do once more.
4. Give the word, let many speak,
many hear, and many seek,
seek thy face, whom angels praise,
love thy truth and learn thy ways.
5. Happy days when God descends!
when his pow'r the word attends,
then the truth its beauty shows,
charms and conquers all its foes.
Thomas Kelly, Hymns on various passages of Scripture, ca. 1853, Hymn 439.