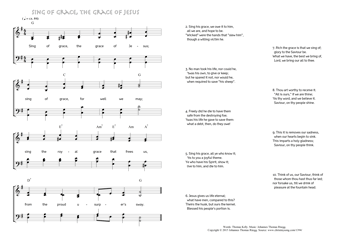 Christ My Song - 1394
Sing of grace, the grace of Jesus
(Thomas Kelly/Johannes Thomas Rüegg)
Sing of grace, the grace of Jesus.
"By grace are ye saved." (Ephesians 2,8)
1. Sing of grace, the grace of Jesus;
sing of grace, for well we may;
sing the royal grace that frees us,
from the proud usurper's sway. PDF - Midi
2. Sing his grace, we owe it to him,
all we are, and hope to be.
"Wicked" were the hands that "slew him",
though a willing victim he.
3. No man took his life, nor could he,
'twas his own, to give or keep;
but he spared it not, nor would he,
when required to save "his sheep".
4. Freely did he die to have them
safe from the destroying foe;
'twas his life he gave to save them:
what a debt, then, do they owe!
5. Sing his grace, all ye who know it;
'tis to you a joyful theme.
Ye who have his Spirit, show it;
live to him, and die to him.
6. Jesus gives us life eternal;
what have men, compared to this?
Theirs the husk, but ours the kernel.
Blessed his people's portion is.
7. Rich the grace is that we sing of;
glory to the Saviour be.
What we have, the best we bring of,
Lord, we bring our all to thee.
8. Thou art worthy to receive it.
"All is ours," if we are thine;
'tis thy word, and we believe it.
Saviour, on thy people shine.
9. This it is removes our sadness,
when our hearts begin to sink.
This imparts a holy gladness;
Saviour, on thy people think.
10. Think of us, our Saviour, think of
those whom thou hast thus far led;
nor forsake us, till we drink of
pleasure at the fountain head.
Thomas Kelly, Hymns on various passages of Scripture, ca. 1853, Hymn 417.