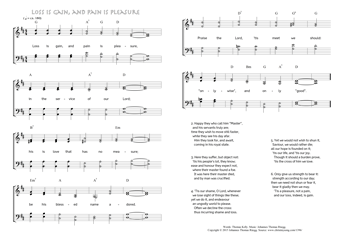 Christ My Song - 1396
Loss is gain, and pain is pleasure
(Thomas Kelly/Johannes Thomas Rüegg)
Loss is gain, and pain is pleasure.
"For whom I have suffered the loss of all things."
(Philippians 3,8)
1. Loss is gain, and pain is pleasure,
in the service of our Lord;
his is love that has no measure;
be his blessed name adored.
Praise the Lord, 'tis meet we should:
"only-wise", and only "good". PDF - Midi
2. Happy they who call him "Master",
and his servants truly are;
time they wish to move still faster,
while they see his day afar.
Him they look for, and await,
coming in his royal state.
3. Here they suffer, but object not:
'tis his people's lot, they know;
ease and honour they expect not,
where their master found a foe.
It was here their master died,
and by man was crucified.
4. 'Tis our shame, O Lord, whenever
we lose sight of things like these;
yet we do it, and endeavour
an ungodly world to please.
Often we decline the cross:
thus incurring shame and loss.
5. Yet we would not wish to shun it,
Saviour, we would rather die;
all our hope is founded on it;
'tis our life, and 'tis our joy.
Though it should a burden prove,
'tis the cross of him we love.
6. Only give us strength to bear it:
strength according to our day;
then we need not shun or fear it,
bear it gladly then we may.
'Tis a pleasure, not a pain,
and our loss, indeed, is gain.
Thomas Kelly, Hymns on various passages of Scripture, ca. 1853, Hymn 419.