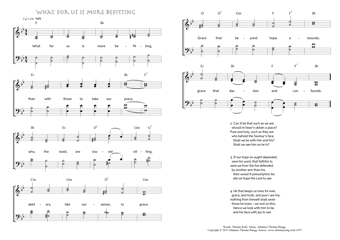 Christ My Song - 1397
What for us is more befitting
(Thomas Kelly/Johannes Thomas Rüegg)
What for us is more befitting.
"Go and sit down in the lowest room." (Luke 14,10)
1. What for us is more befitting,
than with those to take our place,
who, the least, are lowest sitting,
debtors, like ourselves, to grace.
Grace that beyond hope abounds;
grace that dazzles and confounds. PDF - Midi
2. Can it be that such as we are,
should in heav'n obtain a place?
Pure and holy, such as they are
who behold the Saviour's face.
Shall we be with him and his?
Shall we see him as he is?
3. If our hope on aught depended,
save his word, that faithful is;
were we from the foe defended,
by another arm than his,
then would it presumption be,
did we hope the Lord to see.
4. He that keeps us lives for ever,
grace, and truth, and pow'r are his;
nothing from himself shall sever
those he loves – we rest on this.
Hence we look with him to be,
and his face with joy to see.
Thomas Kelly, Hymns on various passages of Scripture, ca. 1853, Hymn 421.