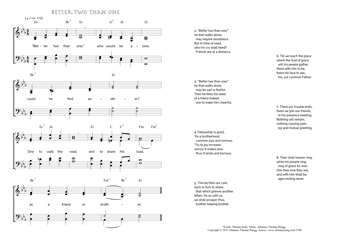 Christ My Song - 1398
Better two than one
(Thomas Kelly/Johannes Thomas Rüegg)
Better two than one.
"Two are better than one." (Ecclesiastes 4,9)
1. "Better two than one;"
who would be alone,
could he find another?
One to walk the road,
and to share his load,
as a friend or brother. PDF - Midi
2. "Better two than one;"
he that walks alone,
may require assistance.
But in time of need,
who his cry shall heed?
Friends are at a distance.
3. "Better two than one;"
he that walks alone
may be sad or fearful.
Then he feels his need
of a friend indeed,
one to make him cheerful.
4. Fellowship is good,
'tis a brotherhood,
common joys and sorrows.
'Tis to joy increase;
sorrow it makes less.
thus it lends and borrows.
5. This be then our care,
each in turn to share,
that which grieves another.
When 'tis so with us,
we shall prosper thus,
brother helping brother.
6. Till we reach the place
where the God of grace
will his people gather,
there with him to be,
there his face to see,
his, our common Father.
7. There our trouble ends,
there we join our friends,
in his presence meeting.
Nothing will remain,
nothing causing pain:
joy and mutual greeting.
8. Then shall heaven ring,
while his people sing:
sing of grace for ever.
Him they love they see,
and with him shall be,
ages ending never.
Thomas Kelly, Hymns on various passages of Scripture, ca. 1853, Hymn 420.