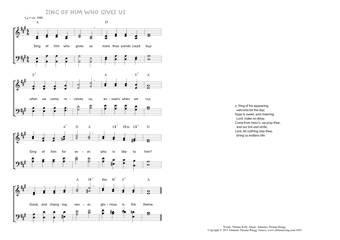 Christ My Song - 1405
Sing of him who gives us
(Thomas Kelly/Johannes Thomas Rüegg)
Sing of him who gives us.
"Forget not all his benefits." (Psalm 103,2)
1. Sing of him who gives us
more than worlds could buy:
when we come, receives us,
answers when we cry.
Sing of him for ever;
who is like to him?
Good, and changing never,
glorious is the theme. PDF - Midi
2. Sing of his appearing,
welcome be the day;
hope is sweet, and cheering,
Lord, make no delay.
Come from heav'n, we pray thee,
end our toil and strife;
Lord, let nothing stay thee,
bring us endless life.
Thomas Kelly, Hymns on various passages of Scripture, ca. 1853, Hymn 225.