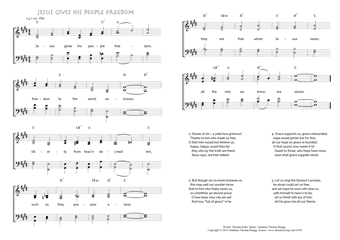 Christ My Song - 1430
Jesus gives his people freedom
(Thomas Kelly/Johannes Thomas Rüegg)
Jesus gives his people freedom.
"If the Son therefore shall make you free,
ye shall he free indeed." (John 8,36)
1. Jesus gives his people freedom,
freedom to the world unknown,
liberty from heav'n decreed 'em,
such as they possess alone;
they are free whom Jesus saves,
all the rest, we know, are slaves. PDF - Midi
2. Slaves of sin – a yoke how grievous!
Thanks to him who made us free;
O that men would but believe us,
happy, happy would they be;
they who by the truth are freed,
Jesus says, are free indeed.
3. But though sin no more enslaves us,
this may well our wonder move,
that to him who freely saves us,
so unfaithful we should prove;
O how base, how vile are we!
And how "full of grace" is he.
4. Grace supports us, grace unbounded,
hope would perish but for this;
all our hope on grace is founded,
O that sound, how sweet it is!
Sweat to those, who hope have none,
save what grace supplies alone.
5. Let us sing the Saviour's praises,
he alone could set us free;
and we hope he soon will raise us,
with himself in heav'n to be;
let us think with joy of him,
let his grace be all our theme.
Thomas Kelly, Hymns on various passages of Scripture, ca. 1853, Hymn 673.