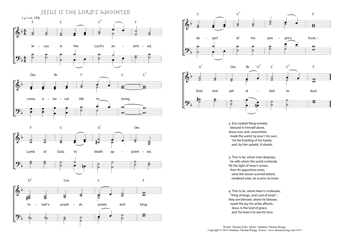 Christ My Song - 1431
Jesus is the Lord's anointed
(Thomas Kelly/Johannes Thomas Rüegg)
Jesus is the Lord's anointed.
"Turn not away the face of thine anointed." (Psalm 132,10)
1. Jesus is the Lord's anointed,
come, eternal life to bring,
Lamb of God, to death appointed,
Israel's prophet, priest, and king;
object of his people's trust, –
God, and yet allied to dust. PDF - Midi
2. Ere created thing existed,
blessed in himself alone,
Jesus was; and, unassisted,
made the world, by pow'r his own;
'tis the building of his hands,
and, by him upheld, it stands.
3. This is he, whom man despises,
he with whom the world contends,
till the light of heav'n arises,
then its opposition ends;
what the sinner scorned before,
rendered wise, he scorns no more.
4. This is he, whom heav'n confesses,
"King of kings, and Lord of lords";
they are blessed, whom he blesses,
sweet the joy his smile affords;
Jesus is the God of grace,
and 'tis heav'n to see his face.
Thomas Kelly, Hymns on various passages of Scripture, ca. 1853, Hymn 677.