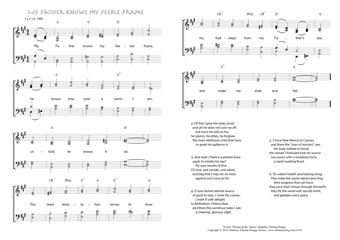 Christ My Song - 1434
My Father knows my feeble frame
(Thomas Kelly/Johannes Thomas Rüegg)
My Father knows my feeble frame.
"For he knoweth our frame." (Psalm 103,14)
1. My Father knows my feeble frame,
he knows how poor a worm I am,
untold, he knows it all.
The least temptation serves to draw
my footsteps from my Father's law,
and make me slide and fall. PDF - Midi
2. Of this I give him daily proof,
and yet he does not cast me off,
but owns me still as his;
he spares, he pities, he forgives
the most rebellious child that lives,
so great his patience is.
3. And shall I thence a pretext draw
again to violate his law?
My soul revolts at this:
I'll love, and wonder, and adore,
and beg that I may sin no more
against such love as his.
4. O love divine! eternal source
of good to man, I mark thy course,
I mark it with delight;
to Bethlehem I follow thee,
and there the wondrous babe I see,
a cheering, glorious sight.
5. I trace thee thence to Calvary,
and there the "man of sorrows" see,
his body bathed in blood;
the stream I followed from its source
now pours with a resistless force,
a rapid swelling flood.
6. Its waters health and healing bring,
they make the waste rejoice and sing,
their progress thus we trace;
they pour their virtues through the earth,
they fill the world with sacred mirth,
and gladden every place.
Thomas Kelly, Hymns on various passages of Scripture, ca. 1853, Hymn 693.