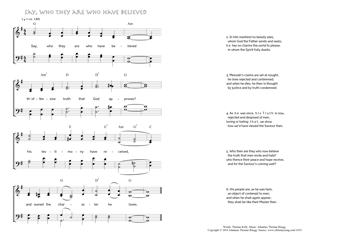 Christ My Song - 1435
Say, who they are who have believed
(Thomas Kelly/Johannes Thomas Rüegg)
Say, who they are who have believed.
"Who hath believed our report?" (Isaiah 53,1)
1. Say, who they are who have believed
th' offensive truth that God approves?
his testimony have received,
and owned the character he loves. PDF - Midi
2. In him mankind no beauty sees,
whom God the Father sends and seals;
he has no charms the world to please,
in whom the Spirit fully dwells.
3. Messiah's claims are set at nought,
he lives rejected and contemned;
and when he dies, he then is thought
by justice and by truth condemned.
4. As he was once, his Truth is now,
rejected and despised of men;
loving or hating that, we show
how we'd have viewed the Saviour then.
5. Who then are they who now believe
the truth that men revile and hate?
who thence their peace and hope receive,
and for the Saviour's coming wait?
6. His people are, as he was here,
an object of contempt to men;
and when he shall again appear,
they shall be like their Master then.
Thomas Kelly, Hymns on various passages of Scripture, ca. 1853, Hymn 694.