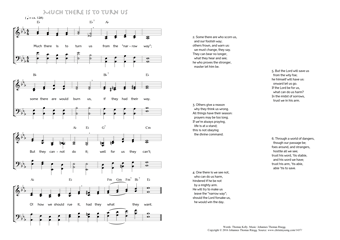 Christ My Song - 1437
Much there is to turn us
(Thomas Kelly/Johannes Thomas Rüegg)
Much there is to turn us.
"He preserveth the way of his saints." (Proverbs 2,8)
1. Much there is to turn us
from the "narrow way";
some there are would burn us,
if they had their way.
But they cannot do it;
well for us they can't;
O! how we should rue it,
had they what they want. PDF - Midi
2. Some there are who scorn us,
and our foolish way;
others frown, and warn us:
we must change, they say.
They can bear no longer,
what they hear and see;
he who proves the stronger,
master let him be.
3. Others give a reason
why they think us wrong.
All things have their season:
prayers may be too long.
If we're always praying,
life is at a stand;
this is not obeying
the divine command.
4. One there is we see not,
who can do us harm,
hindered if he be not
by a mighty arm.
He will try to make us
leave the "narrow way";
should the Lord forsake us,
he would win the day.
5. But the Lord will save us
from the wily foe;
he himself will have us:
onward let us go.
If the Lord be for us,
what can do us harm?
In the midst of sorrows,
trust we in his arm.
6. Through a world of dangers,
though our passage be;
foes around, and strangers,
hostile all we see;
trust his word, 'tis stable,
and his word we have;
trust his arm, 'tis able,
able 'tis to save.
Thomas Kelly, Hymns on various passages of Scripture, ca. 1853, Hymn 762.