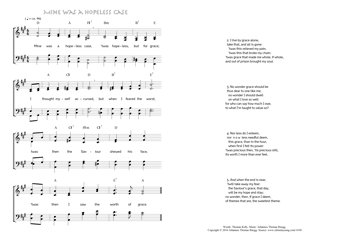 Christ My Song - 1438
Mine was a hopeless case
(Thomas Kelly/Johannes Thomas Rüegg)
Mine was a hopeless case.
"By the grace of God I am what I am." (1 Corinthians 15,10)
1. Mine was a hopeless case,
'twas hopeless, but for grace;
I thought myself accursed,
but when I feared the worst,
'twas then the Saviour shewed his face,
'twas then I saw the worth of grace. PDF - Midi
2. I live by grace alone,
take that, and all is gone:
'twas this relieved my pain,
'twas this that broke my chain:
'twas grace that made me whole, if whole,
and out of prison brought my soul.
3. No wonder grace should be
thus dear to one like me;
no wonder I should dwell
on what I love so well:
for who can say how much I owe,
to what I'm taught to value so?
4. Nor less do I esteem,
nor now less needful deem,
this grace, than in the hour,
when first I felt its power:
'twas precious then, 'tis precious still,
its worth I more than ever feel.
5. And when the end is near,
'twill take away my fear:
the Saviour's grace, that day,
will be my hope and stay;
no wonder, then, if grace I deem,
of themes that are, the sweetest theme.
Thomas Kelly, Hymns on various passages of Scripture, ca. 1853, Hymn 717.