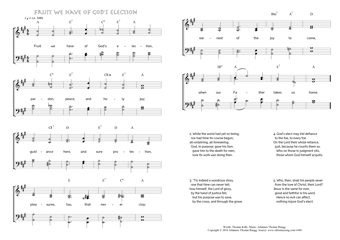 Christ My Song - 1448
Fruit we have of God's election
(Thomas Kelly/Johannes Thomas Rüegg)
Fruit we have of God's election.
"Who is he that condemneth?" (Romans 8,34)
1. Fruit we have of God's election,
pardon, peace, and holy joy;
guidance here, and sure protection,
pleasures, too, that never cloy:
earnest of the joy to come,
when our Father takes us home. PDF - Midi
2. While the world had yet no being,
nor had time its course begun;
all-ordaining, all foreseeing,
God, in purpose, gave his Son:
gave him to the death for men,
love its work was doing then.
3. 'Tis indeed a wondrous story,
one that time can never tell;
how himself, the Lord of glory,
by the hand of justice fell:
but his purpose was to save,
by the cross, and through the grave.
4. God's elect may bid defiance
to the foe, to every foe.
On the Lord their whole reliance,
just, because he counts them so.
Who on those in judgment sits,
those whom God himself acquits.
5. Who, then, shall his people sever
from the love of Christ, their Lord?
Jesus is the same for ever,
good and faithful is his word.
Hence no evil can affect,
nothing injure God's elect.
Thomas Kelly, Hymns on various passages of Scripture, ca. 1853, Hymn 626.