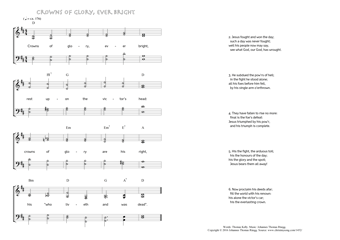 Christ My Song - 1452
Crowns of glory, ever bright
(Thomas Kelly/Johannes Thomas Rüegg)
Crowns of glory, ever bright.
"I am he that liveth and was dead." (Revelation 1,18)
1. Crowns of glory, ever bright,
rest upon the victor's head:
crowns of glory are his right,
his "who liveth and was dead". PDF - Midi
2. Jesus fought and won the day;
such a day was never fought;
well his people now may say,
see what God, our God, has wrought.
3. He subdued the pow'rs of hell;
in the fight he stood alone;
all his foes before him fell,
by his single arm o'erthrown.
4. They have fallen to rise no more:
final is the foe's defeat:
Jesus triumphed by his pow'r,
and his triumph is complete.
5. His the fight, the arduous toil;
his the honours of the day;
his the glory and the spoil;
Jesus bears them all away!
6. Now proclaim his deeds afar;
fill the world with his renown:
his alone the victor's car;
his the everlasting crown.
Thomas Kelly, Hymns on various passages of Scripture, ca. 1853, Hymn 34.