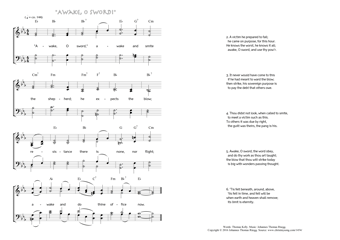 Christ My Song - 1454
"Awake, O sword," awake and smite
(Thomas Kelly/Johannes Thomas Rüegg)
"Awake, O sword!"
"Awake, O sword, against my Shepherd." (Zechariah 13,7)
1. "Awake, O sword," awake and smite
the shepherd; he expects the blow;
resistance there is none, nor flight;
awake and do thine office now. PDF - Midi
2. A victim he prepared to fall;
he came on purpose, for this hour.
He knows the worst, he knows it all;
awake, O sword, and use thy pow'r.
3. It never would have come to this
if he had meant to ward the blow;
then strike, his sovereign purpose is
to pay the debt that others owe.
4. Thou didst not look, when called to smite,
to meet a victim such as this.
To others it was due by right,
the guilt was theirs, the pang is his.
5. Awake, O sword, the word obey,
and do thy work as thou art taught;
the blow that thou wilt strike today
is big with wonders passing thought.
6. 'Tis felt beneath, around, above,
'tis felt in time, and felt will be
when earth and heaven shall remove;
its limit is eternity.
Thomas Kelly, Hymns on various passages of Scripture, ca. 1853, Hymn 19.