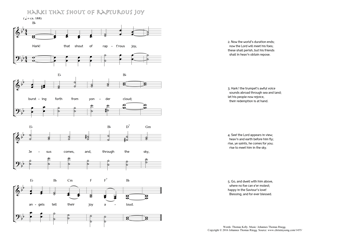 Christ My Song - 1455
Hark! that shout of rapturous joy
(Thomas Kelly/Johannes Thomas Rüegg)
Hark! that shout of rapturous joy.
"For the Lord himself shall descend from heaven
with a shout." (1 Thessalonians 4,10)
1. Hark! that shout of rapt'rous joy,
bursting forth from yonder cloud;
Jesus comes, and, through the sky,
angels tell their joy aloud. PDF - Midi
2. Now the world's duration ends;
now the Lord will meet his foes;
these shall perish, but his friends
shall in heav'n obtain repose.
3. Hark ! the trumpet's awful voice
sounds abroad through sea and land;
let his people now rejoice,
their redemption is at hand.
4. See! the Lord appears in view;
heav'n and earth before him fly;
rise, ye saints, he comes for you;
rise to meet him in the sky.
5. Go, and dwell with him above,
where no foe can e'er molest;
happy in the Saviour's love!
Blessing, and for ever blessed.
Thomas Kelly, Hymns on various passages of Scripture, ca. 1853, Hymn 59.