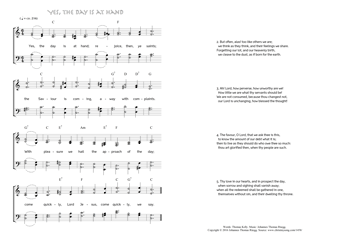 Christ My Song - 1458
Yes, the day is at hand; rejoice, then, ye saints
(Thomas Kelly/Johannes Thomas Rüegg)
Yes, the day is at hand.
"The day is at hand." (Romans 13,12)
1. Yes, the day is at hand; rejoice, then, ye saints;
the Saviour is coming, away with complaints.
With pleasure we hail the approach of the day;
come quickly, Lord Jesus, come quickly, we say. PDF - Midi
2. But often, alas! too like others we are;
we think as they think, and their feelings we share.
Forgetting our lot, and our heavenly birth,
we cleave to the dust, as if born for the earth.
3. Ah! Lord, how perverse, how unworthy are we!
How little we are what thy servants should be!
We are not consumed, because thou changest not,
our Lord is unchanging, how blessed the thought!
4. The favour, O Lord, that we ask thee is this,
to know the amount of our debt what it is;
then to live as they should do who owe thee so much:
thou art glorified then, when thy people are such.
5. Thy love in our hearts, and in prospect the day,
when sorrow and sighing shall vanish away;
when all the redeemed shall be gathered in one,
themselves without sin, and their dwelling thy throne.
Thomas Kelly, Hymns on various passages of Scripture, ca. 1853, Hymn 73.