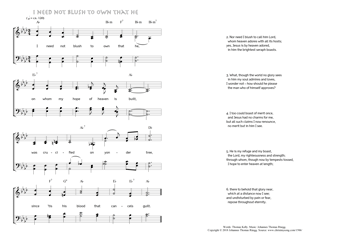 Christ My Song - 1506
I need not blush to own that he
(Thomas Kelly/Johannes Thomas Rüegg)
I need not blush to own that he.
"And base things of the world ... hath God chosen."
(1 Corinthians 1,28)
1. I need not blush to own that he,
on whom my hope of heaven is built,
was crucified on yonder tree,
since 'tis his blood that cancels guilt. PDF - Midi
2. Nor need I blush to call him Lord,
whom heaven adores with all its hosts;
yes, Jesus is by heaven adored,
in him the brightest seraph boasts.
3. What, though the world no glory sees
in him my soul admires and loves,
I wonder not – how should he please
the man who of himself approves?
4. I too could boast of merit once,
and Jesus had no charms for me,
but all such claims I now renounce,
no merit but in him I see.
5. He is my refuge and my boast,
the Lord, my righteousness and strength;
through whom, though now by tempests tossed,
I hope to enter heaven at length;
6. there to behold that glory near,
which at a distance now I see;
and undisturbed by pain or fear,
repose throughout eternity.
Thomas Kelly, Hymns on various passages of Scripture, ca. 1853, Hymn 697.