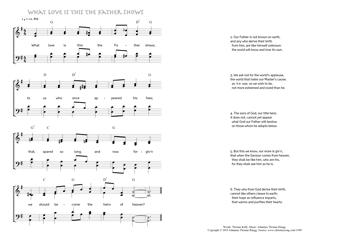 Christ My Song - 1509
What love is this the Father shows
(Thomas Kelly/Johannes Thomas Rüegg)
What love is this the Father shows.
"Behold what manner of love the Father
hath bestowed upon us." (1 John 3,1)
1. What love is this the Father shows,
to us who once appeared his foes;
that, spared so long, and now forgiv'n
we should become the heirs of heaven? PDF - Midi
2. Our Father is not known on earth,
and any who derive their birth
from him, are like himself unknown:
the world will know and love its own.
3. We ask not for the world's applause,
the world that hates our Master's cause;
as he was, so we wish to be,
not more esteemed and loved than he.
4. The sons of God, our title here;
it does not, cannot yet appear
what God our Father will bestow
on those whom he adopts below.
5. But this we know, nor more is giv'n,
that when the Saviour comes from heaven,
they shall be like him, who are his,
for they shall see him as he is.
6. They who from God derive their birth,
cannot like others cleave to earth;
their hope an influence imparts,
that warms and purifies their hearts.
Thomas Kelly, Hymns on various passages of Scripture, ca. 1853, Hymn 689.