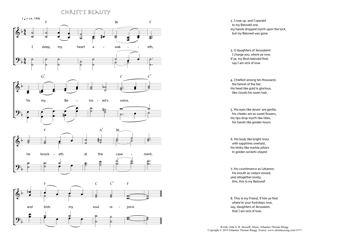 Christ My Song - 1517
I sleep, my heart awaketh - Christ's Beauty
(John S. B. Monsell/Johannes Thomas Rüegg)
Christ's Beauty.
"I sleep, but my heart waketh." (Canticle of Canticles 5,2)
1. I sleep, my heart awaketh,
'tis my Beloved's voice,
he knocketh at the casement,
and bids my soul rejoice. PDF - Midi
2. I rose up, and I openèd
to my Belovèd one,
my hands dropped myrrh upon the lock,
but my Beloved was gone.
3. O daughters of Jerusalem!
I charge you, where ye rove,
if ye, my Best-belovèd find,
say I am sick of love.
4. Chiefest among ten thousand,
the fairest of the fair,
his head like gold is glorious,
like clouds his raven hair.
5. His eyes like doves' are gentle,
his cheeks are as sweet flowers,
his lips drop myrrh like lilies,
his hands like golden hours.
6. His body like bright ivory
with sapphires overlaid,
his limbs like marble pillars
in golden sockets stayed:
7. his countenance as Lebanon,
his mouth as cedars moved,
yea! altogether lovely;
this, this is my Beloved!
8. This is my Friend, if him ye find
where'er your footsteps rove,
say, daughters of Jerusalem,
that I am sick of love.
John S. B. Monsell, Hymns of Love and Praise, 1877, 71-72.
Hymn title from the index, page 172.