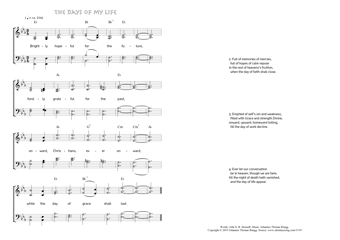 Christ My Song - 1519
Brightly hopeful for the future - The Days of my Life
(John S. B. Monsell/Johannes Thomas Rüegg)
The Days of my Life.
"Thy loving-kindness and mercy shall follow me
all the days of my life." (Psalm 23,6)
1. Brightly hopeful for the future,
fondly grateful for the past,
onward, Christians, ever onward,
while the day of grace shall last. PDF - Midi
2. Full of memories of mercies,
full of hopes of calm repose
in the rest of heavens's fruition,
when the day of faith shall close.
3. Emptied of self's sin and weakness,
filled with Grace and strength Divine,
onward, upward, homeward toiling,
till the day of work decline.
4. Ever let our conversation
be in heaven, though we are here,
till the night of death hath vanished,
and the day of life appear.
John S. B. Monsell, Hymns of Love and Praise, 1877, 89.
Hymn title from the index, page 171.