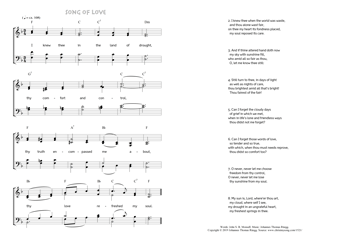 Christ My Song - 1521
I knew thee in the land of drought - Song of Love
(John S. B. Monsell/Johannes Thomas Rüegg)
Song of Love.
"I did know thee in the wilderness,
in the land of great drought." (Hosea 13,5)
1. I knew thee in the land of drought,
thy comfort and control,
thy truth encompassed me about,
thy love refreshed my soul. PDF - Midi
2. I knew thee when the world was waste,
and thou alone wast fair,
on thee my heart its fondness placed,
my soul reposed its care.
3. And if thine altered hand doth now
my sky with sunshine fill,
who amid all so fair as thou,
O, let me know thee still:
4. Still turn to thee, in days of light
as well as nights of care,
thou brightest amid all that's bright!
Thou fairest of the fair!
5. Can I forget the cloudy days
of grief in which we met,
when in life's lone and friendless ways
thou didst not me forget?
6. Can I forget those words of love,
so tender and so true,
with which, when thou must needs reprove,
thou didst so comfort too?
7. O never, never let me choose
freedom from thy control,
O never, never let me lose
thy sunshine from my soul.
8. My sun is, Lord, where'er thou art,
my cloud, where self I see,
my drought in an ungrateful heart,
my freshest springs in thee.
John S. B. Monsell, Hymns of Love and Praise, 1877, 60-61.
Hymn title from the index, page 172.