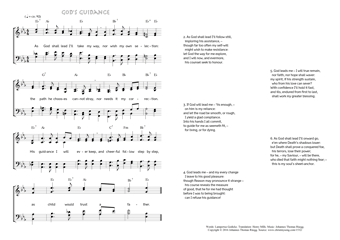 Christ My Song - 1532
As God shall lead I'll take my way - God's Guidance
(Lampertus Gedicke/Henry Mills/Johannes Thomas Rüegg)
God's Guidance.
1. As God shall lead I'll take my way,
nor wish my own selection:
the path he chooses cannot stray,
nor needs it my correction.
His guidance I will ever keep,
and cheerful follow step by step, –
as child would trust a father. PDF - Midi
2. As God shall lead I'll follow still,
imploring his assistance, –
though far too often my self-will
might wish to make resistance:
let God the way for me explore,
and I will now, and evermore,
his counsel seek to honour.
3. If God will lead me – 'tis enough, –
on him is my reliance:
and let the road be smooth, or rough,
I yield a glad compliance.
Into his hands I all commit,
to guide for me as seemeth fit, –
for living, or for dying.
4. God leads me – and my every change
I leave to his good pleasure:
though Reason may pronounce it strange –
his course reveals the measure
of good, that he for me had thought
before I was to being brought:
can I refuse his guidance!
5. God leads me – I will true remain,
nor faith, nor hope shall waver:
my spirit, if his strength sustain,
who from his love can sever?
With confidence I'll hold it fast,
and ills, endured from first to last,
shall work my greater blessing.
6. As God shall lead I'll onward go,
e'en where Death's shadows lower:
but Death shall prove a conquered foe,
his terrors, lose their power;
for he, – my Saviour, – will be there,
who died that faith might nothing fear; –
this is my soul's sheet-anchor.
Henry Mills, Horæ Germanicæ, 1856, hymn 92.
Translated from the German Wie Gott mich führt, so will ich gehn - Wie Gott mich führt
of Lampertus Gedicke.