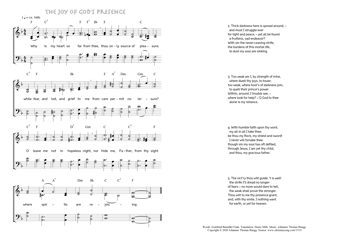 Christ My Song - 1533
Why is my heart so far from thee - The Joy of God's Presence
(Gottfried Benedikt Funk/Henry Mills/Johannes Thomas Rüegg)
The Joy of God's Presence.
1. Why is my heart so far from thee,
thou only source of pleasure;
while fear, and toil, and grief to me
from care permit no leisure?
O leave me not in hopeless night,
nor hide me, Father, from thy sight
where spirits are rejoicing. PDF - Midi
2. Thick darkness here is spread around, –
and must I struggle ever
for light and peace, – yet all be found
a fruitless, sad endeavor?
With sin the never-ceasing strife,
the burdens of this mortal life,
to dust my soul are sinking.
3. Too weak am I, by strength of mine,
where dwell thy joys, to tower;
too weak, where host's of darkness join,
to quell their prince's power.
Within, around, I trouble see, –
where look for help? – O God to thee
alone is my reliance.
4. With humble faith upon thy word,
my all in all I take thee;
be thou my Rock, my shield and sword!
I never will forsake thee:
though sin my soul has oft defiled,
through Jesus, I am yet thy child,
and thou, my gracious father.
5. The vict'ry thou wilt guide: 't is well!
the strife I'll dread no longer:
of fears – no more would dare to tell,
the weak shall prove the stronger.
Thou wilt to me thy presence grant,
and, with thy smile, I nothing want
for earth, or yet for heaven.
Henry Mills, Horæ Germanicæ, 1856, hymn 63.
Translated from the German Wie ist mein Herz so fern von dir
of Gottfried Benedikt Funk.