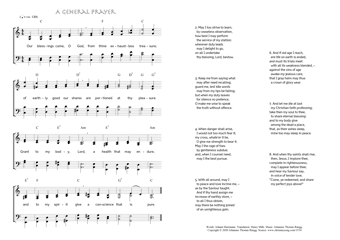 Christ My Song - 1534
Our blessings come, O God - A General Prayer
(Johann Heermann/Henry Mills/Johannes Thomas Rüegg)
A General Prayer.
1. Our blessings come, O God,
from thine exhaustless treasure;
of earthly good our shares
are portioned at thy pleasure.
Grant to my body, Lord,
a health that may endure,
and to my spirit give
a conscience that is pure. PDF - Midi
2. May I too strive to learn,
by ceaseless observation,
how best I may perform
the service of my station:
wherever duty leads
may I delight to go,
on all I undertake
thy blessing, Lord, bestow.
3. Keep me from saying what
may after need recalling;
guard me, lest idle words
may from my lips be falling;
but when my duty leaves
for silence no pretence,
O make me wise to speak
the truth without offence.
4. When danger shall arise,
I would not too much fear it;
my cross, whate'er it be,
O give me strength to bear it.
May I the rage of foes
by gentleness subdue;
and, when I counsel need,
may I the best pursue.
5. With all around, may I
to peace and love incline me, –
as by the Saviour taught.
And if thy hand assign me
increase of earthly store, –
to all I thus obtain,
may there be nothing joined
of an unrighteous gain.
6. And if old age I reach,
ere life on earth is ended,
and must its trials meet
with all its weakness blended, –
against the sins of age
awake my jealous care,
that I gray hairs may thus
a crown of glory wear.
7. And let me die at last
my Christian faith professing;
take then my soul to thee,
to share eternal blessing:
and to my body give
among the dead a place,
that, as their ashes sleep,
mine too may sleep in peace.
8. And when thy saints shall rise,
then, Jesus, I implore thee,
complete in righteousness,
may I appear before thee;
and hear my Saviour say,
in voice of tender love,
"Come, ye redeemed, and share
my perfect joys above!"
Henry Mills, Horæ Germanicæ, 1856, hymn 69.
Translated from the German O Gott, du frommer Gott!
of Johann Heermann.