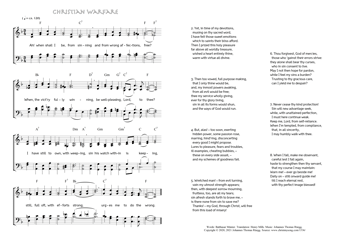 Christ My Song - 1536
Ah! when shall I be, from sinning - Christian Warfare
(Balthasar Münter/Henry Mills/Johannes Thomas Rüegg)
Christian Warfare.
1. Ah! when shall I be, from sinning
and from wrong affections, free?
When, the vict'ry fully winning,
be well-pleasing, Lord, to thee?
I have still to own, with weeping,
sin his watch within is keeping,
still, full oft, with efforts strong,
urges me to do the wrong. PDF - Midi
2. Yet, in time of my devotions,
musing on thy sacred word,
I have felt those sweet emotions
which to saints their bliss afford.
Then I prized this holy pleasure
far above all worldly treasure,
wished a heart entirely thine,
warm with virtue all divine.
3. Then too vowed, full purpose making,
that I only thine would be,
and, my inmost powers awaking,
from all evil would be free;
thee my service wholly giving,
ever for thy glory living,
sin in all its forms would shun,
and the ways of God would run.
4. But, alas! – too soon, exerting
hidden power, some passion rose,
marring, hind'ring, disconcerting
every good I might propose.
Lures to pleasure, fears and troubles,
ill examples, cheating bubbles, –
these on every side assail, –
and my schemes of goodness fail.
5. Wretched man! – from evil turning,
vain my utmost strength appears;
then, with deepest sorrow mourning,
fruitless, too, are all my tears;
sin afresh stands forth to brave me, –
is there none from sin to save me?
Thanks! – my God, through Christ, will free
from this load of misery!
6. Thou forgivest, God of mercies,
those who 'gainst their errors strive:
they alone shall bear thy curses,
who in sin consent to live.
May I not then hope for pardon,
while I feel my sins a burden?
Trusting to thy gracious care,
can I yield me to despair?
7. Never cease thy kind protection!
Sin will new advantage seek,
while, with unattained perfection,
I must here continue weak.
Keep me, Lord, from self-reliance.
When I'm tempted, from compliance,
that, in all sincerity,
I may humbly walk with thee.
8. When I fall, make me observant,
careful lest I fall again,
haste to strengthen then thy servant,
that my course I may maintain:
Warn me! – ever go beside me!
Daily on – still onward guide me!
till I reach eternal rest,
with thy perfect image blessed!
Henry Mills, Horæ Germanicæ, 1856, hymn 77.
Translated from the German Ach, wann werd ich von der Sünde
of Balthasar Münter.