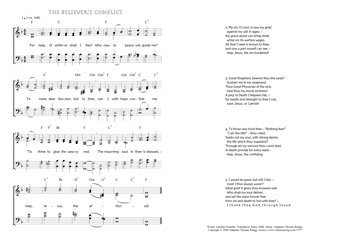 Christ My Song - 1537
For help, O whither shall I flee? - The Believer's Conflict.
(Joachim Neander/Henry Mills/
Johannes Thomas Rüegg)
The Believer's Conflict.
1. For help, O whither shall I flee?
Who now to peace will guide me?
To none, dear Saviour, but to thee,
can I with hope confide me.
'Tis thine to give the weary rest.
The mourning soul in thee is blessed, –
help, Jesus, the afflicted! PDF - Midi
2. My sin, O Lord, is now my grief,
against my will it rages: –
thy grace alone can bring relief,
while sin its warfare wages.
All that I need is known to thee,
and now a part myself can see, –
help, Jesus, the sin-burdened!
3. Good Shepherd, bearest thou the weak?
Sustain me in my weakness!
Thou Great Physician of the sick,
heal thou my moral sickness!
A prey to Death I helpless fall, –
for health and strength to thee I call,
save, Jesus, or I perish!
4. To those who trust thee – "Nothing fear!"
"I am the life!" – thou criest.
Seeks not my soul, with strong desire,
the life which thou suppliest?
Through all my sorrows thou canst lead,
in death provide for every need –
help, Jesus, the confiding.
5. I would do good, but still I fail, –
must I thus always waver?
What grief it gives thou knowest well.
Who shall my soul deliver,
and set the slave forever free
from sin and death to live with thee? –
I thank thee, God, through Jesus!
Henry Mills, Horæ Germanicæ, 1856, hymn 76.
Translated from the German Wo soll ich hin, wer hilfet mir?
of Joachim Neander.