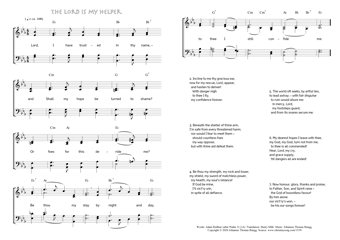 Christ My Song - 1539
Lord, I have trusted in thy name - The Lord is my Helper
(Adam Reißner/Henry Mills/Johannes Thomas Rüegg)
The Lord is my Helper.
1. Lord, I have trusted in thy name, –
and Shall my hope be turned to shame?
Or foes for this deride me?
Be thou my stay
by night and day,
to thee I still confide me. PDF - Midi
2. Incline to me thy gracious ear,
now for my rescue, Lord, appear,
and hasten to deliver!
With danger nigh
to thee I fly,
my confidence forever.
3. Beneath the shelter of thine arm,
I'm safe from every threatened harm;
nor would I fear to meet them –
should countless foes
my way oppose;
but with thine aid defeat them.
4. Be thou my strength, my rock and tower,
my shield, my sword of matchless power,
my health, my soul's reliance!
If God be mine,
I'll vict'ry win,
in spite of all defiance.
5. The world oft seeks, by artful lies,
to lead astray; – with fair disguise
to ruin would allure me:
in mercy, Lord,
my footsteps guard,
and from its snares secure me.
6. My dearest hopes I leave with thee,
my God, my God, turn not from me,
to thee is all commended!
Hear, Lord, my cry,
and grace supply,
till dangers all are ended!
7. Now honour, glory, thanks and praise,
to Father, Son, and Spirit raise –
the God of boundless favour!
By him alone
our vict'ry's won, –
be his our songs forever!
Henry Mills, Horæ Germanicæ, 1856, hymn 90.
Translated from the German In dich hab ich gehoffet, Herr!
of Adam Reißner. (After Psalm 31,2-6.)