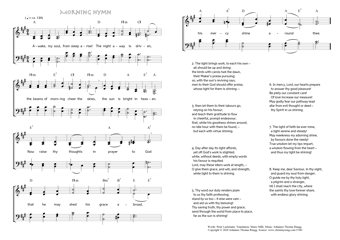 Christ My Song - 1540
Awake, my soul, from sleep arise! - Morning Hymn
(Peter Lackmann/Henry Mills/Johannes Thomas Rüegg)
Morning Hymn.
1. Awake, my soul, from sleep arise!
The night away is driven,
the beams of morning cheer the skies,
the sun is bright in heaven.
Now raise thy thoughts in prayer to God
that he may shed his grace abroad,
his mercy shine around thee. PDF - Midi
2. The light brings work, to each his own –
all should be up and doing:
the birds with carols hail the dawn,
their Maker's praise pursuing;
so, with the sun's reviving rays,
men to their God should offer praise,
whose light for them is shining: –
3. then let them to their labours go,
relying on his favour;
and teach their gratitude to flow
in cheerful, prompt endeavour,
that, while his goodness shines around,
no idle hour with them be found, –
but each with virtue shining.
4. Day after day its light affords,
yet oft God's work is slighted;
while, without deeds, with empty words
his favour is requited.
Lord, may these idlers work at length, –
O give them grace, and will, and strength,
while light to them is shining.
5. Thy word our duty renders plain
to us thy faith professing;
stand by us too – it else were vain –
and aid us with thy blessing!
Thy saving truth, thy power and grace,
send through the world from place to place,
far as the sun is shining!
6. In mercy, Lord, our hearts prepare
to answer thy good pleasure!
Be piety our constant care!
Of love increase our measure!
May godly fear our pathway lead
afar from evil thought or deed –
thy Spirit in us shining.
7. The light of faith be ever mine,
a light serene and steady!
May meekness my adorning shine,
by favours done the needy!
True wisdom let my lips impart,
a wisdom flowing from the heart –
and thus my light be shining!
8. Keep me, dear Saviour, in thy sight,
and guard my soul from danger;
O guide me by thy holy light,
a pilgrim and a stranger,
till I shall reach the city, where
the saints thy love forever share,
with endless glory shining.
Henry Mills, Horæ Germanicæ, 1856, hymn 111.
Translated from the German Erheb, o meine Seele, dich
of Peter Lackmann.