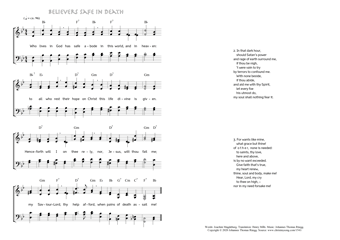 Christ My Song - 1541
Who lives in God has save abode - Believers Safe in Death
(Joachim Magdeburg/Henry Mills/Johannes Thomas Rüegg)
Believers Safe in Death.
1. Who lives in God
has safe abode
in this world, and in heaven:
to all who rest
their hope on Christ
this life divine is given.
Henceforth will I
on thee rely,
nor, Jesus, wilt thou fail me;
my Saviour-Lord,
thy help afford,
when pains of death assail me! PDF - Midi
2. In that dark hour,
should Satan's power
and rage of earth surround me,
if thou be nigh,
't were vain to try
by terrors to confound me.
With none beside,
if thou abide,
and aid me with thy Spirit,
let every foe
his utmost do,
my soul shall nothing fear it.
3. For wants like mine,
what grace but thine!
of other, none is needed:
to saints, thy love,
here and above,
is by no want exceeded.
Give faith that's true,
my heart renew,
thine, soul and body, make me!
Hear, Lord, my cry
to thee on high, –
nor in my need forsake me!
Henry Mills, Horæ Germanicæ, 1856, hymn 126.
Translated from the German Wer Gott vertraut, hat wohl gebaut
of Joachim Magdeburg.