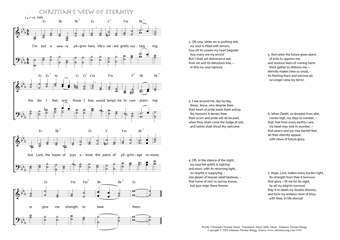 Christ My Song - 1543
I'm but a weary pilgrim here - Christian's View of Eternity
(Christoph Christian Sturm/Henry Mills/Johannes Thomas Rüegg)
Christian's View of Eternity.
1. I'm but a weary pilgrim here,
life's varied griefs sustaining;
the ills I feel, and those I fear,
would tempt me to complaining:
but, Lord, the hopes of joys above
the pains of pilgrimage remove,
or give me strength to bear them. PDF - Midi
2. Oft now, while sin is plotting still,
my soul is filled with terrors;
how oft its snares my heart beguile!
how many are my errors!
But I shall yet deliverance see,
from sin and its delusions free, –
in this my soul rejoices.
3. I see around me, day by day,
those, Jesus, who despise thee:
their heart of pride leads them astray,
thy honours it denies thee:
their scorn and pride will all be past,
when thou shalt come the Judge at last,
and saints shall shout thy welcome.
4. Oft, in the silence of the night,
my soul her griefs is sighing;
and morn, with its returning light,
no respite is supplying: –
one gleam of heaven relief bestows, –
that home of rest no sorrow knows,
but joys reign there forever.
5. And when the future gives alarm
of evils to oppress me;
and anxious fears of coming harm
thick gather to distress me; –
eternity makes time so small, –
its fleeting fears and sorrows all
no longer raise my terror.
6. When Death, so dreaded from afar,
comes nigh, my days to number, –
that, free from every earthly care,
my head may sink in slumber, –
that peace and joy may banish fear,
let then eternity appear,
with views of future glory.
7. Hope, Lord, makes every burden light,
its strength from thee it borrows:
that glory – fit me for its sight,
by all my pilgrim sorrows!
May it in death my doubts dismiss,
and form my endless store of bliss
with thee, in life eternal!
Henry Mills, Horæ Germanicæ, 1856, hymn 132.
Translated from the German Ein Pilger bin ich in der Welt
of Christoph Christian Sturm.