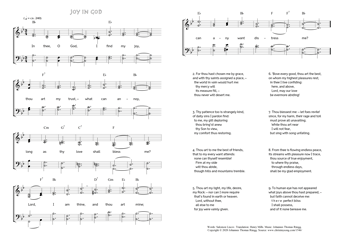 Christ My Song - 1546
In thee, O God, I find my joy - Joy in God
(Salomon Liscov/Henry Mills/Johannes Thomas Rüegg)
Joy in God.
1. In thee, O God, I find my joy,
thou art my trust, – what can annoy,
long as thy love shall bless me?
Lord, I am thine,
and thou art mine;
can any want distress me? PDF - Midi
2. For thou hast chosen me by grace,
and with thy saints assigned a place, –
the world in vain would hurt me:
thy mercy will
its measure fill, –
thou never wilt desert me.
3. Thy patience too is strangely kind,
of daily sins I pardon find:
to me, my gilt deploring
thou bring'st anew
thy Son to view,
my comfort thus restoring.
4. Thou art to me the best of friends,
that to my every want attends:
none can thyself resemble!
Firm at my side
wilt thou abide,
though hills and mountains tremble.
5. Thou art my light, my life, desire,
my Rock: – nor can I more require
that's found in earth or heaven.
Lord, without thee,
all else to me
for joy were vainly given.
6. 'Bove every good, thou art the best,
on whom my highest pleasures rest;
in thee I live confiding:
here, and above,
Lord, may our love
be evermore abiding!
7. Thou blessest me: – let foes revile!
since, for my harm, their rage and toil
must prove all unavailing.
While thou art near
I will not fear,
but sing with song unfailing.
8. From thee is flowing endless peace,
its streams with pleasure now I trace,
thou source of true enjoyment,
to where thy praise,
through endless days,
shall be my glad employment.
9. To human eye has not appeared
what joys above thou hast prepared, –
but faith cannot deceive me:
there perfect bliss
I shall possess,
and of it none bereave me.
Henry Mills, Horæ Germanicæ, 1856, hymn 85.
Translated from the German Ich freue mich, mein Gott, in dir
of Salomon Liscov.