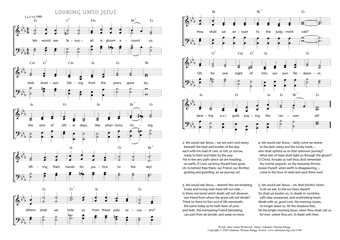 Christ My Song - 1548
We would see Jesus; – all is gloom around us - Looking unto Jesus (Jane Laurie Borthwick/Johannes Thomas Rüegg)
Looking unto Jesus.
"We would see Jesus." (John 12,21)
1. We would see Jesus; – all is gloom around us,
dark shadows falling from the years gone by;
the sins of other days, like phantoms rising,
lifting their hands for justice to the sky!
Where shall we hide us from these pale accusers?
How shall we answer to the judgment call?
Oh, for one sight of him, our own Redeemer,
bearing our guilt, paying the ransom all! PDF - Midi
2. We would see Jesus; – we are worn and weary
beneath the heat and burden of the day;
each with his load of care, or toil, or sorrow,
ready to faint and falter by the way.
Yet in the very path which we are treading,
on earth, O Lord, we know thyself hast gone;
oh, to behold thee there, our Friend, our Brother,
guiding and guarding, as we journey on!
3. We would see Jesus; – dearest ties are breaking,
lovely and loving ones have left our side, –
is there one bond which death will not dissever,
one friend from whom the grave will not divide?
There is! there is! the Lord of life remaineth,
the same today as he hath been of yore;
and faith, the everlasting Friend beholding,
can part from all beside, and weep no more.
4. We would see Jesus; – daily come we nearer
to the dark valley and the lonely tomb, –
who shall uphold us on that unknown journey?
What star of hope shall light us through the gloom?
O Christ, forsake us not! thou dost remember
thy mortal anguish, on thy heavenly throne:
reveal thyself, when earth is disappearing, –
come in the hour of need and save thine own!
5. We would see Jesus; – oh, that blissful vision
is all we ask, to bid our fears depart!
So shall we hasten on, in shade or sunshine,
with step unwearied, and unshrinking heart.
Abide with us, good Lord, the evening closes;
no longer leave us, till the shadows flee,
till the bright morning dawn, when thou shalt call us
for ever, where thou art, to dwell with thee.
H.L.L., alias Jane Laurie Borthwick, Thoughtful Hours, 1863, 79-81.