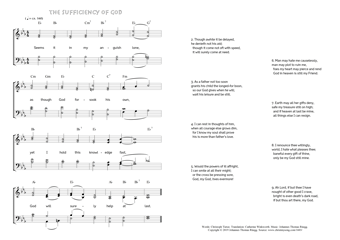 Christ My Song - 1603
Seems it in my anguish lone - The Sufficiency of God
(Christoph Tietze/Catherine Winkworth/
Johannes Thomas Rüegg)
The Sufficiency of God.
1. Seems it in my anguish lone,
as though God forsook his own,
yet I hold this knowledge fast,
God will surely help at last. PDF - Midi
2. Though awhile it be delayed,
he denieth not his aid;
though it come not oft with speed,
it will surely come at need.
3. As a father not too soon
grants his child the longed-for boon,
so our God gives when he will;
wait his leisure and be still.
4. I can rest in thoughts of him,
when all courage else grows dim,
for I know my soul shall prove
his is more than father's love.
5. Would the powers of ill affright,
I can smile at all their might;
or the cross be pressing sore,
God, my God, lives evermore!
6. Man may hate me causelessly,
man may plot to ruin me,
foes my heart may pierce and rend
God in heaven is still my Friend.
7. Earth may all her gifts deny,
safe my treasure still on high;
and if heaven at last be mine,
all things else I can resign.
8. I renounce thee willingly,
world, I hate what pleases thee;
baneful every gift of thine,
only be my God still mine.
9. Ah Lord, if but thee I have
nought of other good I crave,
bright is even death's dark road,
if but thou art there, my God.
Catherine Winkworth, Lyra Germanica, The Christian Life, 1868, 218-219.
Translated from the German Sollt es gleich bisweilen scheinen
of Christoph Tietze.