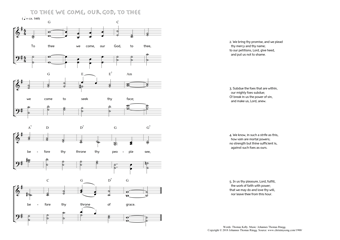 Christ My Song - 1900
To thee we come, our God, to thee
(Thomas Kelly/Johannes Thomas Rüegg)
To thee we come, our God, to thee.
"Seek ye me, and ye shall live." (Amos 5,4)
1. To thee we come, our God, to thee,
we come to seek thy face;
before thy throne thy people see,
before thy throne of grace. PDF - Midi
2. We bring thy promise, and we plead
thy mercy and thy name;
to our petitions, Lord, give heed,
and put us not to shame.
3. Subdue the foes that are within,
our mighty foes subdue;
O! break in us the power of sin,
and make us, Lord, anew.
4. We know, in such a strife as this,
how vain are mortal powers;
no strength but thine sufficient is,
against such foes as ours.
5. In us thy pleasure, Lord, fulfill,
the work of faith with power;
that we may do and love thy will,
nor leave thee from this hour.
Thomas Kelly, Hymns on various passages of Scripture, ca. 1853, Hymn 373.