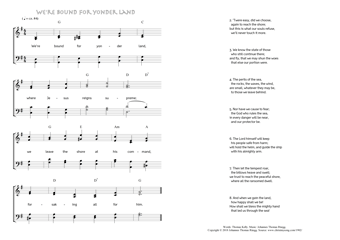 Christ My Song - 1902
We're bound for yonder land
(Thomas Kelly/Johannes Thomas Rüegg)
We're bound for yonder land.
"These see the works of the Lord,
and his wonders in the deep." (Psalm 107,24)"
1. We're bound for yonder land,
where Jesus reigns supreme;
we leave the shore at his command,
forsaking all for him. PDF - Midi
2. 'Twere easy, did we choose,
again to reach the shore;
but this is what our souls refuse,
we'll never touch it more.
3. We know the state of those
who still continue there;
and fly, that we may shun the woes
that else our portion were.
4. The perils of the sea,
the rocks, the waves, the wind,
are small, whatever they may be,
to those we leave behind.
5. Nor have we cause to fear;
the God who rules the sea,
in every danger will be near,
and our protector be.
6. The Lord himself will keep
his people safe from harm;
will hold the helm, and guide the ship
with his almighty arm.
7. Then let the tempest roar,
the billows heave and swell;
we trust to reach the peaceful shore,
where all the ransomed dwell.
8. And when we gain the land,
how happy shall we be!
How shall we bless the mighty hand
that led us through the sea!
Thomas Kelly, Hymns on various passages of Scripture, ca. 1853, Hymn 270.